Frank Flynn Biography
Francis Stanislaus Flynn (Frank) (1906 - 2000)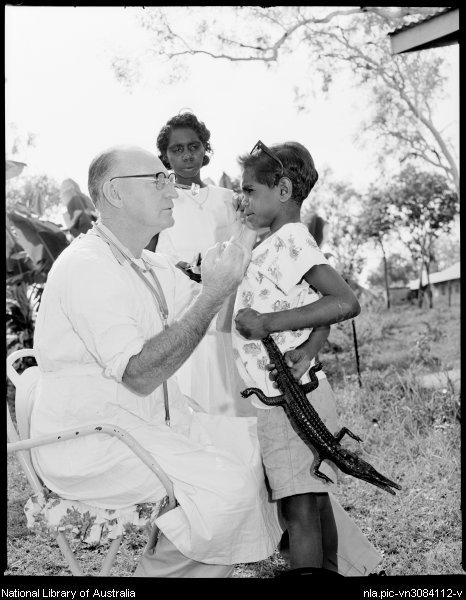 Catholic priest, ophthalmologist and author, was born on 6 December 1906 in Sydney, one of nine children born to Dr John Flynn and Maud May, nee Witton. John Flynn had arrived in Australia from Ireland in 1888, where he had been House Surgeon in the Mater Misericordiae Hospital in Dublin. Frank Flynn commenced his education at the Brigidine Convent in Randwick, Sydney. Along with his five brothers he was then educated by Marist Brothers at Darlinghurst, Sydney. They all excelled at studies, and all went into medicine. In 1925 Frank Flynn started his medical studies at Sydney University. In 1933 he sailed to England on Jervis Bay as ship's surgeon. He studied and worked at the Royal Ophthalmic Hospital (Moorfields) in London, the world's oldest and most famous eye hospital. Not yet 30, he made several important contributions to the study of eye disease, including the introduction of a new drug which he named Mydriciane, and the design and patenting of a machine used in operating on detached retinas.
While still at Moorfields, Flynn wrote to his family informing them of his decision to become a priest. He returned to Australian in 1934, travelling as ship's surgeon on board the liner Automadon. He joined the Missionaries of the Sacred heart (MSC) in December 1935. It was while studying Philosophy at Kensington Monastery in New South Wales that Flynn first met Monsignor Francis Xavier Gsell who, was appointed as the first resident Catholic Bishop of Darwin in 1938, was to have a profound influence on the way Flynn approached his later ministry amongst the Aboriginal people of the north. Flynn was ordained as a priest in March 1942. In response to the many people who questioned why he gave up medicine for the Church, Flynn later wrote, 'I never did for any lengthy period divorce ophthalmic practice from my priesthood. I have been fortunate, indeed, in that wherever I have gone I have found a union of two interests, one aimed at healing the body and the other aimed at healing the spirit'.
After ordination Flynn was sent to the Northern Territory where he as attached to the Army as a Major, serving in the dual role of Chaplain and Ophthalmologist. Military life and discipline was not entirely new to Flynn as he had undergone, compulsory, military training at school as a Junior and Senior Cadet, and was later in the University Regiment. He was attached in succession to Australian General Hospital (AGH) units 113, 109, 117 and 129, and operated at the Darwin fortress Hospital on Myilly Point and new Army hospitals in Berrimah, Katherine and Alice Springs.
The first medical problem brought to his attention by the Army was with regard to the severe eye discomfort suffered by Army convoy drivers. Flynn's simple solution of the use of goggles by the drivers, rinsing the eyes, painting a green strip along the top of each windscreen and spacing convoy vehicles, proved effective. As Army Chaplain, Flynn quickly found a use of St Mary's (then St Joseph's) Convent and school, the Sisters of Our Lady of the Sacred Heart having been evacuated to Alice Springs, by turning it into a Soldiers' Club. Between 1943 and 1946 he was able to travel widely throughout the Territory, and provided a lively and fascinating record of outback life at the time in his book Distant Horizons, published in 1947. These travels confirmed what Flynn as early as 1942 had identified and officially reported; that there was an appallingly high level of trachoma amongst the Aboriginal people, a find contrary to the official medical view that trachoma was not endemic in Australian. This lack of interest was highlighted in 1944 when Flynn, intending to speak to a conference of eye specialists in Sydney on the subject of trachoma in the Aboriginal population, was approached and asked to choose a subject of more interest to members from Melbourne and Sydney.
After the war ended Flynn conducted many studies on trachoma for the Commonwealth Department of Health and in 1957 made a full report on his findings in The Medical Journal of Australia. Flynn constantly urged a mass, practical programme, and in 1976 an official Australian-wide survey on trachoma amongst Australian Aboriginals was started under the direction of Professor Fred Hollows (qv). Flynn was appointed as advisor to Hollows, and arranged for Hollows to visit Bathurst and Melville Islands to study the level of trachoma there before he started working on the National Trachoma and Eye Health Program. Hollows regarded Flynn as his mentor, and the 'the man behind his fight for sight'. The two men formed a friendship that was to last until Hollows' death in 1993.
Flynn was demobilised in 1946 and took up duties as Administrator or parish priest of St Mary's, Darwin, a parish covering 300 square miles. He continued to serve the military as part-time Chaplain and Ophthalmologist to the Royal Australian Air Force, with the rank of Wing Commander. One of Flynn's first tasks as Administrator was to ensure that the nuns were among the first women allowed to return to Darwin. The school was the first to re-open in Darwin after the Second World War and within a few months was functioning again with 230 pupils. Flynn also, to engender new bonds of friendship and community in the war-battered town, purchased three Sidney Williams hunts from the Army and had them erected around the tennis courts built to from a Catholic Tennis Club in 1928. The building, variously dubbed 'The Palais' or 'Flynn's Folly' quickly became the hub of the community, used and hired by people from all denominations until it was demolished in 1970. A major task facing Flynn and Bishop Gsell after the war was the building of a Catholic Cathedral to replace the old church which had been erected in the late 1880s by the Jesuits. A public meeting was held on 18 November 1946 to inaugurate a nation-wide appeal for the building of the cathedral. St Mary's Start of th3 Sea War Memorial Cathedral and Shrine of Thanksgiving was opened on Sunday 19 August 1962. Two thousand people of all denominations attended the blessing by Bishop JP O'Loughlin (qv), and the first Mass was celebrated by Father Flynn. From 1960 to 1965 Flynn was also Regional Superior of the Missionaries of the Sacred Heart in the Northern Territory.
In 1963 Flynn's second book on the Territory, Northern Gateway, was published. He was also a regular contribute to the magazine Walkabout. Apart from his priestly and medical duties, Flynn was an indefatigable worker when it came to supporting or forming groups that would enhance or benefit the community, at times attending two committee meetings or functions in an evening. He was a foundation member of the Bougainvillea Festival, the Museums and Arts galleries Board and the Darwin Auxiliary of the Guide Dogs for the blind, as well as lending his support to the first post war Darwin Show held in 1961.
In late 1967 Flynn was transferred to Port Moresby as Administrator of the Cathedral and Director of Catholic Health Services in Papua New Guinea. He was faced with the challenge of the construction of another cathedral, celebrating Mass in the old building on three times before it was demolished. On 10 August 1969 the new cathedral was blessed and opened. In 1970 an extraordinary meeting of the Medical Society, of which Flynn was President, was called which resulted in letters being sent to the Australian Prime Minister and other relevant ministers regarding the foundation of a Medical Faculty at the University of Papua New Guinea. Amongst the first to graduate from the Faculty of Medicine was Father Peter Flynn MSC, one of Flynn's nephews. The medical side of Flynn's work was far more time-consuming New Guinea than it had been the Territory. By 1972 he had transferred to the Bairiki district, where he had office facilities and assistance. He was also appointed part-time Research Scholar and Fellow in Tropical Medicine by the Director of Department of Ophthalmology Research and Eye Health at the University of Sydney, an appointment which allowed him to compare eye disease among the indigenous population. During this time he became a Foundation Member of the Australian College of Ophthalmologists, and designed automatic tear-feeding spectacles for sufferers of Sjogrens, or dry-eye syndrome, a condition from which Flynn himself later suffered.
Flynn returned to Australia and Darwin in 1977 and was one of the first residents of the newly erected living quarters for priests, 'The Ranch', on the Nightcliff foreshore. He resumed his missionary duties and in 1980s became a Funding Member of the International Society of Dakryologists and a member of the Advisory Committee. He also spent time in the United States of America as a visiting lecturer at Texas University. The first of the four-yearly international Dakryology conferences, which in layman's terms are concerned in world health problems related to lack of tears or 'dry eye' syndrome, was held in Texas in 1982. In 1993 Flynn was co-presider at the first session of the 3rd International Dakryology Conference in Madrid.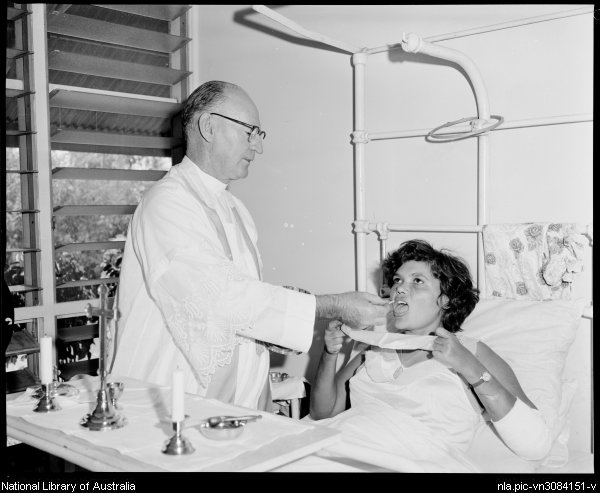 During Flynn's long life he took several degrees in different fields, and had honours heaped on him. At one stage his full list of titles read: MSC, AC, MB, BS (Syd), DOMS, RCP & S (Eng), Dip Relig Studies (Rome), Dip Anthrop, FACTM. (Townsville), MD (hc) (Syd), DSc (hc) (NTC), which led to a young friend writing, 'Mum is worried about the number of letters after your name". In the Bicentennial year 1988 Flynn was honoured with an Australian Achievers Award, and included in both the Heritage 200 list, The 200 People Who Made Australia Great, and the list of 200 Remarkable Territorians. Unfortunately a book published in that year made an extraordinary mistake in that a photograph placed after Flynn's biography was captioned 'Frank Flynn having a morning shave while on the track with Mrs. Flynn'. The picture was of the other Flynn, Presbyterian minister 'Flynn of the Inland' (qv, vol 1).
In 1990 Flynn joined a small group of people to be honoured with a Papal Award. On 30 October 1990 in St John's College Chapel in Darwin, the Apostolic Diploma together with the Cross Pro Ecclesia et pontifice was conferred on Flynn during a Mass celebrated in Bishop EJP Collins, MSC. On Australia Day 1993 Flynn was appointed to the highest rank of the Order of Australia, Companion with the General Division (AC), a promotion from Officer of the Order (AO) bestowed in 1979.
Although approaching his 90th year, and with failing eyesight, Flynn has the charm, verve and stamina of a man half his age. He continues his medical work in Darwin, and in 1995 worked with Army medical eye service units which travelled to isolated Aboriginal communities in the Northern territory. Flynn was made a Fellow of the Australasian College of Tropical Medicine in 1994. In 1996 he is to be made an Honorary Life Member of the Royal Australian College of Ophthalmology.
Source: Gibson, Eve. Flynn, Francis Stanislaus (Frank). Northern Territory Dictionary of Biography, Volume 3. Casuarina, N.T. : NTU Press, 1992.