Details

Published: Wednesday, 17 June 2015 16:48
LOVE MAKES A WAY AT PARLIAMENT HOUSE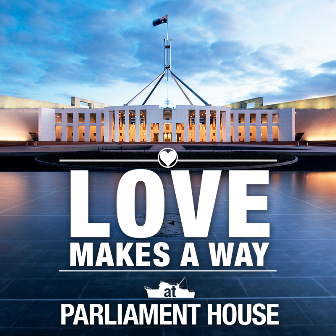 ‪#‎BREAKING‬: Mass Sit-In with Catholic Bishop, Nuns, Pastors in Parliament House
Diverse group of Christian Leaders risking arrest to call for "a change of heart" on asylum seekers and release of all children on the 10th Anniversary of John Howard's release of asylum seeker children.
A group of 40 Christian priests, nuns, pastors and other leaders, including a Catholic Bishop, have begun a sit-in prayer vigil in the Main Foyer of Australian Parliament House, risking arrest by police for civil disobedience.
The group, part of the Love Makes a Way movement, is calling on both major parties to "have a change of heart" on asylum seekers, beginning with the immediate release of all children and their families from Nauru Detention Centre.
Sister Jane Keogh, a 70 year-old Brigidine (Catholic) nun, said: "The ongoing shocking revelations of physical, sexual and psychological abuse of children on Nauru demand an immediate response. But instead of protecting these precious children, our government and opposition continue to put them in harm's way."
"In fact, we are deporting even more children to Nauru, despite expert medical advice", Sr Keogh said.
"We are here today to say to both major parties that the abuse has to stop," Sr Keogh said.
"We are willing to risk arrest because we feel so strongly about speaking up for those who have been silenced and abused by our government", said Sr Keogh.
Retired Catholic Bishop Pat Power, from Canberra, said that the community is trying every possible means of reaching out to politicians. "We have met with them, written letters, signed petitions, presented evidence, had private dialogue, everything. But both parties simply refuse to acknowledge the devastating impacts of their cruel policies on innocent people."
"Every single church denomination, and every single health and medical body in Australia has condemned offshore detention. Still the government and opposition refuse to listen." Bishop Power said.
Salvation Army Captain Craig Farrell said: "We know from reports by the Human Rights Commission, the UN Committee Against Torture, the Moss Review, and ongoing revelations from doctors and social workers, that offshore detention is "inherently toxic" [Dr Peter Young] and is completely unsafe for anyone, but especially children."
"Clearly our political leaders need a change of heart. They already have more than enough information. They need to re-learn that people seeking asylum have the same inherent dignity as everyone else, and deserve the same support." Captain Farrell said
Captain Farrell noted that today is the 10th anniversary of the announcement by (then PM) John Howard that all children would be released from immigration detention, following agitation by Liberal backbenchers led by Petro Georgiou.
Captain Farrell said "We are asking for nothing more than John Howard did ten years ago today. The simple truth is that children don't belong in detention."