Details

Published: Friday, 30 August 2013 12:03
LIFE STORY: Fr TED HARRIS MSC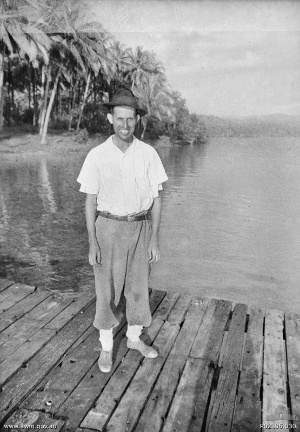 What follows is a detailed article by Brian Davies, printed in the Sydney Catholic Weekly, 26th April, 2009. It gives information about the Japanese invasion of Papua New Guinea and the attack on Rabaul and its consequences for expatriates, especially the members of religious orders. The article also contains some biography of Ted Harris. It is published here with the permission of the editor of The Catholic Weekly.

The Japanese occupation of New Britain during World War II led to the greatest single loss of Australian life at sea when a Japanese ship, purportedly taking Australian POWs from Rabaul to Japan, the "Montevideo Maru", was torpedoed by a US submarine. But who and how many were on board the ship? No-one knows – a mystery. What was the fate and where are the remains of the man whose unforgettable heroism saved hundreds of lives, but not his own, the missionary priest, Fr Ted Harris MSC – another mystery. New Year 1941 was a watershed slipping into a tragedy, and was it only a coincidence that it was resolved on Easter Sunday?
Below the slopes of Tavurvur the active volcano, grumbling and frequently darkening the sky over Rabaul with steam and smoke, by April 1941 Australia had assembled a force about 1400-strong to defend the town and the mountainous island of New Britain against almost certain Japanese invasion.
It was possibly the most inadequate taskforce the AIF had mounted and soon to be, so swiftly, perhaps the least successful, although not without its heroes. Yet for more than 30 years after World War II the circumstances of the fall of Rabaul were not widely known, and still aren't.
The defending force comprised the 2/22nd battalion – a militia unit – of the AIF 23rd Brigade, a company of the New Guinea Volunteer Rifles and the 17th anti-tank battery, main weapons – two 6-inch artillery guns. Just before Christmas 1941 they were joined by six RAAF Wirraways, slow old-fashioned trainer planes and certainly no match for Japanese Zeros.
Most European women and children had left by ship or airlift, the last on a final DC-3 flight on December 28 1941, leaving behind about a 1000 Australian traders, teachers and public servants. To this day, their families have asked Australian governments to open wartime files about the decisions that were made then, to no avail. The "received wisdom" is that there are Cabinet documents in Canberra labelled "never to be released". This is the first of the mysteries associated with the fall of Rabaul.
There were as well on the island numerous Christian missions: among them Anglican, Lutheran, Methodist, Salvation Army and Catholic; these last, long-established, were manned by German Sacred Heart fathers, with six mission stations strung from Rabaul in the north to Gasmata, a modest seaport 300km south, as the crow flies, on the east coast. Between the two was an impenetrable mountain range, below which, halfway to Gasmata, was the MSC mission at Mal Mal in Jacquinot Bay, and 75km farther south another one at Awal.
An Irish-Australian Balmain boy, Fr "Ted" Harris MSC was the priest at Mal Mal. He had more than 3000 Melanesian parishioners, a church – St Patrick's, a school, sports ground, a mission store and dispensary – and a two-roomed presbytery backing on to steep jungle.
He was well provisioned, had a launch, a shotgun for shooting game and a gramophone on which he played John McCormack records and other favourites like The Road to Gundagai.
Edward Harris was born in May 1905 in England to an Irish mother and Protestant English father, who converted because he wanted to share his family's passionate practice of Catholicism. They migrated to Australia; Ted learnt that in a family "sacrifice and love are twins". He was a Christian Brothers boy, dux of Balmain CBC's intermediate class 1920 and next year, turning 16, a NSW government junior public servant.
He and a workmate, another ex-Balmain CBC boy Frank Hidden, decided to study to matriculate and do Law. In November 1932, they graduated – Ted with second class honours and a prize in international law. Hidden went on to become a judge. Ted Harris, however, the day after graduation went straight to the Sacred Heart monastery at Douglas Park. He stayed, entered the novitiate in 1933, was professed in 1934 and ordained in 1939. To his vocation he brought spiritual aspirations, a mature mind, a compelling personality he had to tailor to community life and a deep conviction, as he wrote to his sister, that to be a worthy priest his only wish was "not to disappoint Our Lord".
"I came into religion to serve Him, draw closer to Him. If I do that I'll have everything; if I miss, the rest will be worth little," he said.
What else was in Ted Harris' "baggage"? He was a hiker and a bushwalker, Cox's River and the Megalong Valley were favourite spots for camping. He enjoyed sailing, followed boxing and enjoyed a bet at Harold Park on the greyhounds. He once gave his winning ticket to a mate who'd lost and was broke. In most respects he was a typical young Australian whose Irish connection lay in deliberately reproducing his mother's brogue, while he always said and wrote 'Twas and 'Tis and his one expletive exclamation was "Faith!"
But his fervour, his spiritual quest, his journey to God were dedicated and unswerving. Late in 1940, he was sent to the German Sacred Heart missionaries in Rabaul, secretary to Bishop Scharmach MSC. Six months later, the bishop approved his transfer to run St Patrick's mission, Mal Mal. Alone at Mal Mal, he was also teacher, doctor and nurse. It was June 1941.
On January 22, 1942, selected ships from a Japanese fleet of four aircraft carriers, battleships, cruisers and 16 destroyers entered Rabaul Harbour. At 2.30am on January 23 the first wave of 5000 Japanese marines landed. Australian orders of the day were that there would be no withdrawal.
The 2/22nd was a Victorian militia unit – 76 officers and 1400 other ranks – civilian clerks, tradesmen and others "called up" and trained; the battalion band was a Melbourne's Brunswick Salvation Army band*.
The invasion was preceded by three weeks of bombing and strafing. The Wirraways had taken off, shot down two Zeros, but made good their pilots' ultimate "resource" signalling "we who are about to die salute you". All died.
Opposing the landing 26 men died; 60 were wounded. The defence inadequacies were swiftly exposed, convincing the suspicious that "never to be released" Cabinet documents existed. Historian Dr Ian Downs wrote that the destruction of 2/22nd was regarded by government "as a misfortune that had to happen and internment of civilians a matter of course ... (in effect) hide the tragedy and no-one will know".
That day the most final of military action orders was issued: 'Every man for himself.'
Civilians came under brutal control. Fr McCullagh MSC and Br Brennan MSC were taken away and never seen again. Br Huth MSC was beaten near to death with a shovel; 44 other priests and brothers were jammed into the upper floor of a convent building and confined. Native nuns were subjected to ridicule and worse. Native Catholics and other Christian islanders were killed. Bishop Sharmach and his close community were kept under "house arrest". Several hundred men were POWs; more would follow.
Meanwhile, lost to the outside world, the surviving 2/22nd's ordeal began. There was no communication with Australia and hardly any within the island. Fr Harris had no certain idea Rabaul had fallen until the first survivors landed on his doorstep at Mal Mal, a month later.
The survivors hoped to reach Gasmata for a boat or rescue to Port Moresby. To get there however they had to cross the Baining Ranges – 50km of trackless jungle, towering mountains, deep gorges and crocodile-infested rivers – on short rations. In the "wet" it rained almost ceaselessly. Once past Malingi, they would reach the coast.
They would discover Fr Harris at Mal Mal – a figure in old trousers, sandshoes, a white shirt and black priest's hat – as they stumbled towards him. Starting out, rested and cared for, from the Sacred Heart mission at Baining where the ranges began, the crossing had taken nearly three weeks. Like the clothes they wore, they were torn and ripped, too, boots gone, some with sores and ulcers, hungry and exhausted.
Fr Harris cared for them: two hours washing and dressing their wounds, a square meal, sweets and the gramophone playing, some fresh clothes, stretchers to sleep on, breakfast, food packs to take with them, upriver by canoe and then a 50km walk to reach Fr Culhane, an Irish MSC, at Awal.
The next party arrived at Mal Mal with distressing news: A Japanese ship combing the coast for escapers had spotted about 180 men on the beach at Tol plantation in Wide Bay, north of Mal Mal. The men surrendered to a landing party. Their hands were then lashed behind them and each was bayoneted and shot to death. A few survivors were with the escaping party. Fr Harris's coolness and good spirits calmed over-strung nerves and revived morale, but the Japanese were obviously close.
As it left for Awal, this second party advised him that there were probably about another 50 soldiers struggling south.
Happy to leave things to God, Fr Harris resumed life at Mal Mal and its outlying villages, nine and 12km away: medical and nursing rounds, conducting marriages, baptisms, funerals and celebrating Mass at St Patrick's.
The third party to arrive, under Lt Best, estimated there were only 20 stragglers to come. Best was relatively fit and determined to reach Port Moresby. Fr Harris gave him his launch, all his petrol and enough food for the party for three weeks.
No sooner had Best left, than another party walked in, fairly fit. Fr Harris over-nighted them with the usual care and provisioned them for the row upriver to the walking track to Awal. They urged him to escape with them, reminding him of the Tol massacre. He declined.
On the track, moments of perception, of capture and punishment – death ... the stress of flight ... the unforeseeable ... a future as dark as a tomb – a pall along the escape routes, a dreadful companion when the men were at rest. But Fr Ted Harris's cheerfulness would dispel gloom and lift spirits. The next party to reach him,however, brought grim news.
Gasmata was occupied by the Japanese and 200 escapers heading there would soon reach Mal Mal.
With 200 men who now could not go any further, Fr Harris split them into two camps at nearby Drina and Wunung, some of the sick to be cared for at St Patrick's. With a plantation family, the Yenckes, cooking at Wunung and himself catering for Drina, he and the men's officers were running a makeshift army camp. Men were posted to keep watch for the Japanese or, best, a rescue ship. Food was rationed and some of the men were assigned to expand a native garden, but the almost unmanageable problems were malaria, the injured, the sick and the exhausted. Fr Harris was running out of quinine and other medicines. He was to bury nearly 30 of the men at St Patrick's, including, some who claimed to be Catholics so they would receive a Christian burial. He assured the men all could count on that, Catholics or not. A crowded "ecumenical" congregation regularly heard Mass.
The officers – Major Owen, Major Palmer the medical officer, Captain Goodman and Lieutenant David Selby – and Fr Harris established close bonds. Their commitment was to their men, fiercely so, and in Fr Harris they found a man they came to respect and admire. If they were rescued they planned to kidnap him to take him to safety. Waiting, tensions rose. Fr Harris brought the Yenckes and another plantation family in to live in the presbytery. He moved into the school room. Rescue was the only escape.
A slender hope was the possibility that Lt Best might have reached Port Moresby. They weren't to know that Fr Culhane at Awal had also given his launch away for the same purpose. (Fr Culhane MSC was subsequently "tried" and shot dead for helping escapers.)
Good Friday, 1942, fell on April 3. Captain Goodman, a Protestant, went to Fr Harris and said the men wanted him to deliver a Good Friday address, which he did, according to David Selby, a deeply moving one.
Two days later the men were in St Patrick's at Easter Sunday Mass.
The liturgy was interrupted at the back of the church. Two neatly uniformed, heavily armed Australian soldiers called several worshippers out to tell them they were rescued. Lt Best and others had made it. The newcomers had travelled in a launch from Port Moresby to tell them that in three days time the Laurabada would tie up to take them all off.
Gallantry and endurance were needed to get the sick and injured from Drina and Wanung to Mal Mal – some men died doing it; but Fr Harris made one thing clear: he wouldn't be going with them ... he would not leave his parish and his parishioners.
All made their farewells. David Selby later wrote "as we pulled out in a blinding rainstorm he was a spare figure standing on the shore waving, still wearing his smile."
There are conflicting and gruesome versions of where and how Fr Harris died.
It's agreed the Japanese took him away from Mal Mal. The only certainty after that is his execution.
The final mystery in the Fall of Rabaul surrounds the Montevideo Maru. The Japanese claimed that when the ship was torpedoed in 1942 it was carrying all the prisoners of war and civilians taken when they invaded New Britain. But who was on the ship?
The Montevideo Maru Search group says the claim was to conceal war crimes like the Tol murders and massacres at other sites, for which there is evidence, and that there are scores of victims whose last resting places are as unknown as Fr Ted's.