Details

Published: Friday, 27 June 2014 09:42
LIFE STORY: DENNIS MURPHY MSC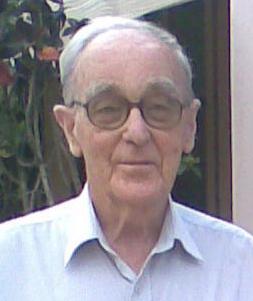 Requiem Mass for FATHER DENNIS MURPHY msc: Eulogy by Fr. Malcolm Fyfe msc
Dear Friends, we have come together this morning to commend Father Dennis Murphy's soul to God, in the presence of his mortal remains, brought back to Australia for burial, after a well-attended Requiem Mass in Bangalore, at the request of his sister, Catherine, and other members of the family. We welcome all of you here for this Requiem Mass and we offer Dennis' relatives and friends our condolences and our union with them in prayer.
Today at this Mass, we want to celebrate the quite exceptional achievements of Father Dennis's life. And we are doing this in association with the liturgy of the Eucharist to which he was deeply devoted. Let me add that it will not be possible to do complete justice to Father Dennis's multilayered life-story and achievements: I can only endeavour to comment selectively on certain aspects presented from just one person's point of view. Last night at the Sharing of Memories you heard tributes offered by so many others who were touched by his life.
As Christians, our belief in what happens to us when our life on this earth comes to an end is supported by an array of Biblical texts. St Paul, for example, in his Letter to the Romans (Chapter 8) states: "If the Spirit of him who raised Jesus from the dead has made his home in you, then he who raised Christ Jesus from the dead will give life to your own mortal bodies, through his spirit living in you."
Again, St Paul's words in the Second Letter to Timothy (Chapter 4) provide a similar testimony when St Paul's own life was drawing to a close: "The time of my departure has come. I have fought the good fight, I have finished the race, I have kept the faith. Henceforth there is laid up for me the crown of righteousness, which the Lord, the righteous judge, will award to me on that Day, and not only to me but also to all who have longed for his appearing." With all his down to earth humility, I believe Father Dennis could well have used those words of St Paul: "The time of my departure has come. I have fought the good fight, I have finished the race, I have kept the faith. Henceforth there is laid up for me the crown of righteousness".
The victory of Jesus over death and sin is the model and pattern of our own destiny. We too, are to pass through death to life in Christ Jesus and see God face to face for all eternity. And so, the sorrow and sense of loss that we naturally experience at the death of someone we have admired and esteemed, give way to a celebration of his personal gifts and of all that he achieved throughout a long and dedicated life. We will thank God for these achievements and for the privilege of having known him.
Father Dennis was called to eternal life on Monday of last week. He was 87 years of age, having been born on April 20th, 1927, at Maroubra. He grew up with a love of the sea and was a keen and competent body surfer. His father James, was a policeman and his mother Teresa, lived into her nineties. Dennis attended primary school at St. Anthony's, Clovelly and his secondary schooling consisted of one year at Christian Brothers College, Waverley, followed by four years at our Sacred Heart Apostolic School in Douglas Park. Needless to say, he was a very bright student.
A year's Pre-Novitiate or Postulancy, as it was then called, followed and afterwards came the Novitiate, with Fr Cuthbert Hoy as a very exacting Novice Master. In 1949, after Final Vows, he was selected to go to Rome, where he gained successively his Licentiate of Sacred Theology and his Licentiate of Sacred Scripture. These studies enabled him to get a good grasp of several languages including Italian and French, with the ability to read other languages such as Biblical Greek and Hebrew. While still busy with his Scripture Studies, Dennis was ordained in Rome on December 22, 1951, somewhat ahead of his fellow seminarians back in Australia. Indicative of that era was the mild scandal Dennis caused back in the Australian province by a photograph showing him digging at a biblical site alongside a female archaeologist who was only lightly clad because of the summer heat.
It was on Dennis's return to Australia in September 1956 that I first met him. During that year, as a sort of gap year between our Philosophy and Theology studies, Father Noel Mansfield and I taught at Douglas Park Apostolic School. The addition to the teaching staff for the final term of the academic year of a cheerful and iconoclastic Dennis Murphy was a breath of fresh air to what had been a confining and stuffy routine. Shortly after he had been given some duties at the Apostolic School, I paid a visit to his room and was surprised to find him seated behind a large desk that had absolutely nothing on it. I asked him didn't he have anything to do and his answer was that he was busy purifying his intention.
At the start of the following year Noel Mansfield and I followed Dennis down to Croydon Monastery where we enjoyed 4 years of Scripture Studies from a 'guru' who had been intellectually liberated by the exegetical insights that followed on Pope Pius XII's ground-breaking encyclical "Divino afflante Spiritu" which the eminent bible scholar Raymond Brown would later describe as a 'Magna Carta for biblical progress'.
Interestingly enough, to use the simplistic division of theologians into the two categories, liberal and conservative, the Dennis Murphy of those days was quite liberal in his theological outlook. I believe with the passing of the years he moved quite distinctly to a more conservative hermeneutic, both in doctrinal matters and in religious praxis.
However, back in those early days, for 11 years, Dennis taught an up to date Scriptural theology and the languages of the Bible at Croydon Monastery. Subsequently, he never lost his interest in and love for Sacred Scripture and in its correct interpretation. I am sure he could have made a noteworthy career as a Scripture Scholar, but being a multitalented person meant he had to forego some possibilities in order to advance other options, ones that in his view had a higher priority. As it was, Dennis authored several books on Scriptural topics, as well as others dealing with our MSC charism and mission and the meaning of a Spirituality of the Heart.
In 1969, at the end of his 11 years teaching at Croydon, he transferred to St Paul's Late Vocation Seminary, where he was successively Lecturer for a year, Acting Rector the following year and then Rector for four years.
At the Provincial Chapter held late 1974, he was elected Provincial Superior. As Provincial he concerned himself with the welfare of the province's members in a very personable way, consulted widely and interested himself in our overseas Missions, with a special concern for our priests and brothers in Japan, Papua New Guinea and the Pacific Islands. He also had a special concern for MSCs working in the Northern Territory and for the wellbeing and overall development of Aborigines.
Dennis's 6 years as provincial from 1975 to 1980 witnessed great changes in the Church's outreach to the Indigenous. Halfway through that period Dennis asked me to go to the Top End. The Mission era was coming to a close and the Government espoused an approach of self-determination. Our Northern Territory Missionaries had traditionally been self-reliant men of grit and perseverance, with practical skills for pastoral work on remote aboriginal settlements and the capacity to endure isolation and a exacting lifestyle. The environment was challenging and outside support very limited. Dennis hoped for teamwork and a more unified approach.
In 1978, halfway through his six year term, Dennis oversaw the shifting of the Provincialate from Kensington Monastery to where it now is, at Treand House in Coogee.
After his term of office as Provincial finished, Dennis began 1981 as Parish Priest of Alice Springs. At the time I was the Religious Superior for the Northern Territory. Later that same year Dennis went to Rome as an Australian participant at the General Chapter and was himself elected as one of the General Councillors to the newly elected Father General, Cornelis Brown. This role was to last for 12 years. Dennis was a most trusted advisor of Kees Braun and both of them felt strongly that Missionaries of the Sacred Heart should be present in India. I was initially asked to spend some time in India, meeting Bishops and Provincials and after surveying the overall situation to draw up a comprehensive report for the General Conference held at Maracaibo in Venezuela late 1983. By this time both Kees Braun and Dennis were committed to the MSCs becoming established in India and as a consequence I spent the following 17 years there.
This is not the place to give a historical summary of the formation of the Indian branch of the Missionaries of the Sacred Heart. However its history and Dennis's story would eventually become entwined because ten years later, after finishing up in Rome, Dennis elected to go to India, where he ended up spending the next 20 years. Dennis' time in India and my time there had an overlapping period of nearly 10 years.
During his time in India, Dennis engaged in research into the voluminous writings of our Congregation's Founder, Father Jules Chevalier and endeavoured to communicate our Founder's message to our Indian seminarians. Later his research included further Scripture study, and when MSC India was marking its first quarter century, he wrote a history of the founding of the Indian Union itself. Up till now, however, this has not been published.
During the 3 years 2001 to 2004 he was Superior of the Formation House and Director of Students. For the following 4 years he was Spiritual Director for all our students on their way to priesthood.
Dennis led by example as much as by instruction. His was a piety of devotions: to the Sacred Heart, the Eucharist, Our Lady of the Sacred Heart and to St Joseph. He felt that in many parts of the post-Vatican II Church, when people gave up the practice of traditional devotions, such as for example, Benediction of the Blessed Sacrament, they lost their interest in and commitment to the faith. Dennis also endeavoured to inculcate a simplicity of life and the practice of evangelical poverty, again by example. In this he followed Mahatma Gandhi's principle that we shouldn't ask others to do what we are not prepared to do ourselves. In this as in other regards, not all the disciples were able to imitate the Master.
With Dennis's passing, the Missionaries of the Sacred Heart have lost an iconic personality, a very gifted but simple man of God, a person greatly revered by the worldwide Congregation of the Missionaries of the Sacred Heart, dedicated to the best possible formation of so many religious and priests, and in these last 20 years, much loved by the many seminarians and parishioners who came to know him during his time in India.
During Dennis's later years in India he had more than one close brush with death. I remember one morning when I came across him, his face an ashen grey colour. He had had a cardiac episode during the night but didn't want to disturb anyone. We rushed him to the nearest hospital where the doctors told me he had only a few hours to live. But Dennis lived another 15 years.
A few weeks before Easter this year Dennis had a fall, which he tended to make light of. Cellulitis ensued and one thing led to another. The last time I had a telephone conversation with him was during Holy Week. A few days later, on Holy Saturday, he was admitted to St John's Medical College Hospital. St John's is a Catholic Hospital under the aegis of the Indian Bishops' Conference. It averages about 5,000 outpatients per day. It is situated about six kilometres from our parish and main formation house in Bangalore, but because of the traffic, getting there by car can sometimes be not much quicker that by walking.
Whatever about that, Dennis was transferred to the Intensive Care Unit a week after Easter. When it seemed he had only a few days of life left to him, I went across from Darwin to accompany him during what was expected to be those final days. At best, he could only recognize people, smile occasionally and hear what they were saying. He was unable to speak. Often he was not conscious and not in a position to communicate whether he wanted treatment to continue. The doctors were committed to doing everything they could to stabilize him but the 5 weeks in Intensive Care ultimately saw him deteriorate to the point of no return.
The Indian Missionaries of the Sacred Heart want to pay tribute to the doctors and staff at the St John's Hospital for the care and attention they showed Father Dennis throughout his illness. And I would like to acknowledge the practical concern, the unwavering care and affection that the MSC Community in Bangalore displayed towards Fr Dennis throughout his ordeal. During those final 6 weeks, there was always an MSC confrere in attendance at the hospital, night and day.
The MSC Union of India has asked me to pass on their condolences to the Australian Province. And, as I said earlier, we extend our condolences to Dennis's sister Catherine, to his nephews, nieces and other relatives present here today.
As we continue to celebrate the Eucharist this morning, thanking God for Father Dennis's life and achievements, we should remind ourselves of those words of Jesus that we heard this morning from the St John's Gospel: "I am the bread of life – he who comes to me shall not perish. He who believes in me, even if he dies, he shall live forever. He who eats my flesh and drinks my blood has eternal life and I will raise him up on the last day".
Father Dennis had a special devotion to the presence of Jesus in the Eucharist. At his prompting, the Taizé-style hymn, "O Sacrament most holy, O Sacrament divine, all praise and all thanksgiving be every moment thine" is heard many times a day like a mantra at the Our Lady of the Sacred Heart Church and Formation House over there.
And Dennis had another favourite hymn. As a result of his urging, one now hears it at the end of Sunday Masses at Our Lady of the Sacred Heart Church in Bangalore. It is a rendition of the beautiful prayer called the Anima Christi, addressed to Christ in the Eucharist. It begins with the words:
Soul of Christ, sanctify me
Body of Christ, save me
Blood of Christ, inebriate me
Water from Christ's side, wash me
Passion of Christ, strengthen me.
Then looking ahead to the fragility and mortality of the life of each one of us, it continues:
O good Jesus, hear me...
In the hour of my death call me
And bid me come unto You
That with your Saints I may praise You
Forever and ever, Amen.
"In the hour of my death call me and bid me come unto You."
In the hour of Father Dennis's death, we can believe that it was Jesus who called him and bade him to come to Him, so that with all the Saints he could be with God and praise Him forever.
And so, we can be sure that Father Dennis, who was so faithful to the teaching of Christ and his Mission, so devoted to the presence of Jesus in the Eucharist and to his Mother Mary, under the title of Our Lady of the Sacred Heart, is already enjoying everlasting life, peace and light in the Kingdom of God.