Details

Published: Monday, 23 July 2018 22:40
PAUL CASTLEY MSC, REPORT ON INTERNATIONAL CONFERENCE OF THE TEAMS OF OUR LADY, FATIMA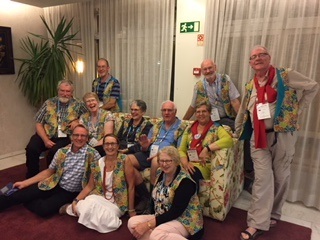 Paul is walking the Camino Portugues, from Lisbon to Compostella, pausing for several days at the International Conference of the Teams of Our Lady, L'Equipes de Notre Dame. The teams have been a signficant lay spirituality movement with a priest chaplain. Paul has been a chaplain for decades. his Report:
There are 10,000 people at the convention. I hope you can get a sense of the size from the photo. It is inspiring. I get a sense that amidst all the strife in the world God is releasing into the world a lot of love through this movement. All these couples have their ups and downs but their love is quietly evident. It must be such a force for good working like the mustard seed & the leaven.
Paul, Cath and Bob Dixon, and Frank Marriott, Sandhurst diocese
There are 145,000 teams members including priest chaplains throughout the world. That's twice the number in Opus Dei. There are over 13,000 teams, a big number in Brazil but even 1 in Japan & some in India, but in so many other countries: Africa, Middle East, North America & Central America. To think it all started with 4 couples in Paris in 1939.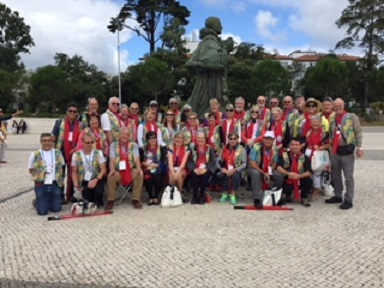 It's a talk fest. The Latins love to waffle on. People laughingly agree with me when I say the mind can take in only what the bottom can endure. Cardinal Turkson gave a brilliant talk on integral human development. I hope it gets published. He also has a good sense of humor. Vee & Renee Pols from Adelaide gave a beautiful input on couples forgiving each other. Should be printed too. One of the best.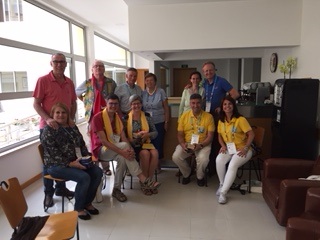 Small group discussion
Our Australian vests are quite distinctive.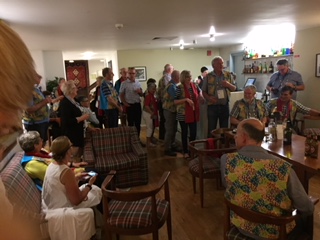 And celebration
All in all a deeply moving & graced experience. Here in these days one is walking in love: Divine love in a human heart.
Cliche to say it was a profound, amazing, wonderful experience. Somehow it entered quite deeply & quietly into the heart and spirit. I think it will have a lasting impact on attitudes & understandings of some significant aspects of faith and spirituality even though this may not be clearly grasped or show itself externally.