Details

Published: Wednesday, 04 July 2018 23:08
A FRENCH MSC/OLSH TOURIST DESTINATION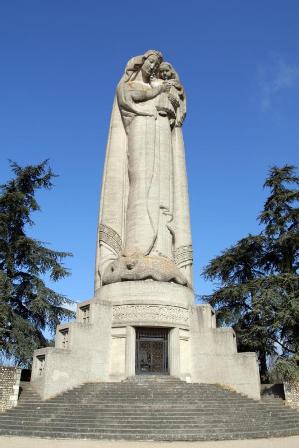 If you read the recent post on Significant July Days, you may have noticed the item for July 5th 1941, the unveiling of the statue of Our Lady of the Sacred Heart in Miribel, France. Here is the photo and some background.
Our Lady of the Sacred Heart:
Mirabel-Ain, France (33 meters)
From the wesbsite Complete Pilgrim: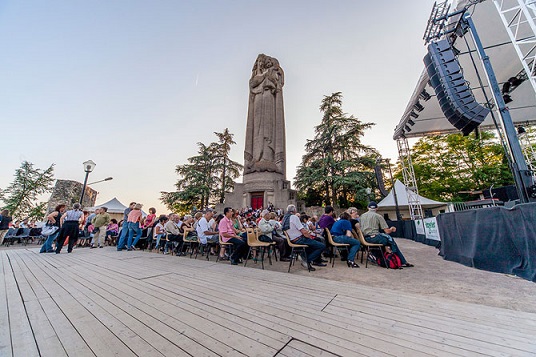 The statue of Notre Dame de Sacre Coeur is the largest statue of the Virgin Mary in Europe and the tallest religious statue in France.
Also known as The Madonna, it honors Our Lady of the Sacred Heart, one of the most popular patrons of Catholics in France. It was completed in the years leading up to World War II (the finishing touches were placed right around the time the Germans captured Paris). It has become a popular place of pilgrimage since the end of the war.
Dombes Côtière Tourisme offers guided tours of the Madone and Carillon de Miribel, a contemporary religious architectural complex located at Mas Rillier and a place of Marian pilgrimage during the first half of the 20th century. You can climb the monumental statue of Our Lady of the Sacred Heart (about 150 steps) and discover the history of the campanile and its carillon composed of 50 bells classified as a Historic Monument. On the esplanade of the Mas Rillier, your guide will present the history and geography of Miribel while you admire the panorama of the Cotière, the Rhone Plain, the Plain of the Ain and the Dombes.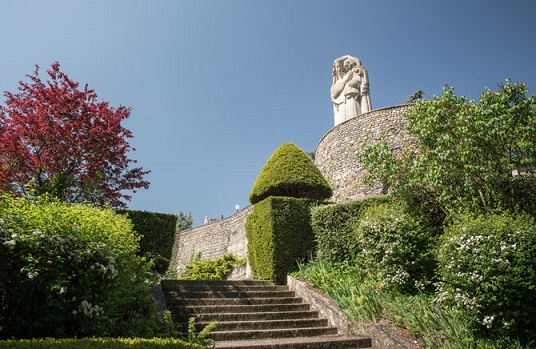 And, some more detail:
Splendid, intense and magnificent are some of the best words to describe the wonder that is Notre Dame du Sacre' Coeur which translates to Our Lady of the Sacred Heart. It signifies the Virgin and Child theme. Located in the heart of Mas Rillier this statue of mother Mary is also colloquially called Vierge du Mas Rillier. It is as though, she is the mother of Mas Rillier, looking down on it, protecting it. Commissioned by Father Thomas in 1934, this wonder is the brainchild of the Lyon architect Georges Serraz. It was inaugurated in the year 1941, in the initial years of the second World War. Fascinating and intricate, the statue has staircases leading to the terrace, which is in the crown of Mary. One cannot help but marvel at the magnitude of this statue.