Current News
Details

Published: Saturday, 05 October 2019 07:50
JOHN RATE MSC, FUNERAL MASS, HENLEY BEACH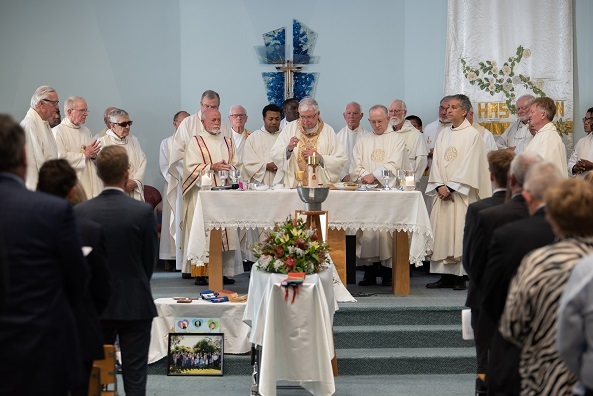 Funeral Homily for John Rate: Our Lady of the Sacred Heart Church Henley Beach
Jesus quoted the passage from Isaiah (the first reading) at the beginning of his ministry to proclaim his message to the people of his hometown, Nazareth. It described his hopes for his people at a time when religion and politics made life difficult for the ordinary people. In responding to this proclamation Jules Chevalier focused on the phrase "to bind up hearts that are broken" (Is 61) as the way to reach out to people of his era. His town in France had borne the brunt of wars and revolutions, and God was far from their daily experience. The first MSCs were successful in helping people to find God again. They did this with their message - the love of God was for all people, no matter who they were, or how they were judged by others. Later, circumstances arose to encourage the MSC to take up the challenge to bring this gospel message to PNG and beyond.
John as a young priest followed in the footsteps of these first missionary priests and his first appointment was to teach in the Seminary in Rabaul. This experience challenged John to bring Chevalier's proclamation of Jesus to a very different environment. This was in the early 1970s and PNG was the country still under the patronage of Australia and only 25 years after WWII: the seminary was one of two high schools in the country. The challenge of language, the tropical climate and the rudimentary conditions made it difficult to live and minister to the people. But it was an experience John never forgot, as 34 years later here at Henley he was able to assist Fr Carroll Martin to prepare for priestly ordination and guide him through his first years in ministry.
The Second Vatican Council's first document was meant to reform Catholic Liturgy. The MSCs asked John to go to France to study liturgy: as a consequence, this became his second love (France and liturgy) and provided an exceptional talent to bring to his ministry. I spent three months with him when he moved to Rome to complete his degree – I was there to learn Italian. In that time, we spent days in the Roman Forum with guidebooks trying to piece together and appreciate life in Roman times, and the links ancient Rome had with the early church. John's desire to search out the details that underpinned the development of our faith led him to seek to understand and implement the reforms of the Council. On his return to Australia his first appointment was as the provincial assistant for parishes, and this soon exposed him to the variety of parish life around the country and the challenges that came with change.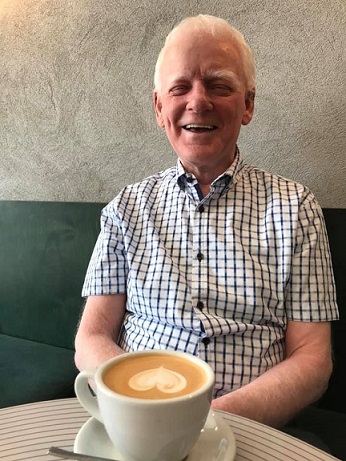 In the 1980s the enthusiasm of the Vatican Council began to wane, and in hindsight this signalled the present struggles of the church. We are aware now of the challenges for the church authorities and organisation to be relevant and engage with the world. The life of the church required not only changes in its theology and ministry, but to openness and accountability to the people it is called to serve. As priests we are called to reflect on and implement the changes required in parish ministry. This encouraged John to open doors for people who sought to change their lives and was especially important in family life. His involvement in Marriage Encounter, Antioch and Teams of Our Lady when he was appointed to Henley, Kippax and Randwick over 21 years, also demanded changes in himself. A passage from the second reading today gives us a glimpse of what this time meant to John: "The peace of God is so much greater than we can comprehend, and this peace will guard your hearts and your thoughts to in Christ Jesus." Phil 4/5
Returning to Henley was a challenge to John. He had doubts about his ability to pick up the mood of the parish after 15 years away. The "peace of God" was a constant search for him, as he shared his ideas and desires for the parish. His enthusiasm for answers to the questions that confront each of us, drove him to seek new ideas and new ways of bringing alive the community he was committed to. So, he invented opportunities and challenges for people in the parish and beyond, encouraging others to see and experience the world and God's presence differently. His desire as a minister was to reach out and touch the hearts of people, which him to develop programs of retreats, in-services, reflection days and even pilgrimages. The "peace of God" searched for wasn't for himself, but an encouragement for others to discover this peace in their lives.
John's most recently introduced the Alpha program, which has touched the hearts of many… but for John, in his heart of heart's he could see that there were so many more people that desire to be touched and assured of the love of God for them.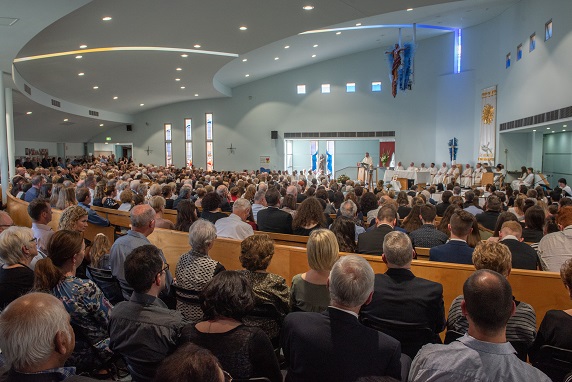 Each MSC, as was John, is focused on the Heart of Jesus Christ: for us this is the link between our human condition, and the Father's ever abundant love and compassion for every person – our human condition is full of hopes and disappointments and is more than balanced by the love of God for each of us. For many reasons we are often confused about the presence of God's love. Jesus offers us the link between loving each other and God loving us. Our life then becomes a journey that we make together with him, in Jesus' presence we experience the "peace of God", even in a world so mixed up and uncertain.
"I will see you again" is the promise of Jesus to those who commit themselves to him. The gospel highlights the consequence of life and death. "You are sad now; but I will see you again, and your hearts will rejoice, and no one will take your joy from you." John 14/1
We believe that this applies to John. It also applies to us now as a parish community and as part of the MSC family. Our faith gives us the opportunity to combine God's love for us and our respect and love for John. It reminds us that every day we encounter the presence of Jesus, as John did. Thus, he is in our lives and in the lives of those we love and care for: especially the children and those who struggle.
Even as we mourn the passing of John, we know in our hearts that though he has gone from our sight, his presence is still with us. We also have the promise of Jesus with his presence in our lives, "our hearts will (also) rejoice".
Paul Cashen msc
1/10/2019
A Short History of Fr John Rate MSC
1946-2019
Brother John Rate was professed as a Missionary of The Sacred Heart on the 26th of February 1965 and began a journey that led him into a life that Pope Francis describes as a missionary disciple. Added to that in John's case, this meant a relationship with Jesus, which focused on looking for those in the communities he served who needed to experience the love and care he offered as a son of Jules Chevalier. Fr John was ordained in Melbourne in 1973.
John's first appointment after ordination was to the Seminary in Raubal, Papua New Guinea. He was asked to do further studies in Liturgy and in 1977 studied for a master's degree in Paris and Rome and was away until 1981. He began his ministry to parishes a Coogee and was appointed as Provincial Delegate to Parishes in 1983 thence to his first appointment to Henley beach in 1986. His learning from the travels around the Province to the various parishes he was able to bring direction and inspiration to the parish and with the parishioners built the new church and opened another era for the parish. From there John was appointed to the parish of Kippax in Canberra, a fast-growing section of the city and was to engage with the people, particularly as a personal guide and support person.
The next big challenge came with John's appointment to the Randwick parish, the mother parish for the MSC in Australia. With its large public hospitals and secondary colleges and the NSW University, he was involved with the formation opportunities that this presented. After nine years John came back to Henley and in the last ten years he was devoted to the people of the parish and beyond, in the diocese and around the world with "Marriage Encounter".
In all these years John lived up to the challenge that called him to ministry from the very beginning, to reach out to those in need and be a guide to those who were seeking God, whoever they were. We give thanks to God for John and the gifts he brought to those he encountered.
RATE, JOHN HILTON

1965

Professed as MSC

DOUGLAS PARK 26-02-1965

1965

To

1969

CANBERRA MONASTERY

STUDENT

1970

DARAMALAN

STUDENT/TEACHER

1971

To

1973

CROYDON MONASTERY

STUDENT

1973

Ordained Priest

MELBOURNE 19-05-1973

1974

CHANEL - PNG

TEACHER

1976

CHEVALIER

TEACHER

1977

To

1978

PARIS

STUDIES

1979

CROYDON/ST. PAULS

LECTURER

1980

ROME

STUDIES

1981

ROME & COOGEE

PARISH MINISTRY

1982

To

1985

COOGEE

PARISH MINISTRY & PROVINCIAL DELEGATE TO PARISHES

1986

HENLEY

ASSISTANT PRIEST

1987

To

1993

HENLEY

PARISH PRIEST

1994

To

1999

KIPPAX

PARISH PRIEST

2000

To

2008

RANDWICK

PARISH PRIEST

2009

HENLEY

PARISH PRIEST

2010

To

2015

HENLEY

SUPERIOR/PARISH PRIEST

2016

To

2019

HENLEY

PARISH PRIEST

2019

Deceased

22/09/2019