Current News
Details

Published: Wednesday, 02 October 2019 22:32
MORE HIGHLIGHTS: 2019 MSC GENERAL CONFERENCE, BUSAN.
SECOND WEEK: LEADERSHIP TEAM GENERAL REPORT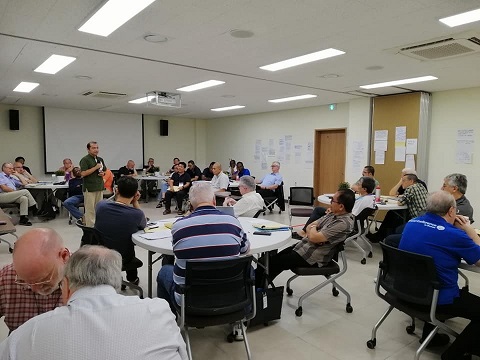 GENERAL SUPERIORS' REPORT
THE TOPICS
INITIAL FORMATION, Accompaniment. Vocation Promotion.

COMMUNICATION
ONGOING FORMATION
ON THE LAITY
JUSTICE AND PEACE
GENERAL BURSAR
ON SAFEGUARDING
At the beginning of 2019, it has been a constant theme, all over the world regarding the protection of the children and the vulnerable adults.This is part of our missionary commitement.

We have to face this challenges because it is not only, on sexual abuse but also financial abuse.

It is no longer the problem of Europe, Australia but also the problems of Asia.

There are provinces who have been into it already, litigations or other problems connected with it. It's time to talk about it so that we can benchmark what others are doing.

There are provinces who are already opening up conversations of it and there are still silent and in denial. But we have to be accountable and transparent, to be preventive.

These are situations starting to crop up from unhealthy communities that create a pathology of abuse.

We have to listen to one another as ther are leaders who have experienced them. How have they dealt on it?

How are we as persons that according to the gospel, we become leaven of the society or becoming agents of change of justice in this regard?
INPUT BY CHRIS CHAPLIN:
Having written a protocol document is a start. But it should be how it has become a part of the lives of the members from initial to ongoing formation.

Accordingly, the word that is missing is JOY. We are supposed to protect the joy of the children and the vulnerable adults.

There are three variables at play: Criminal, Victim and the Opportunity.

We are to make it sure that we will not provide any chance of opportunity for the perpetrator does his own thing.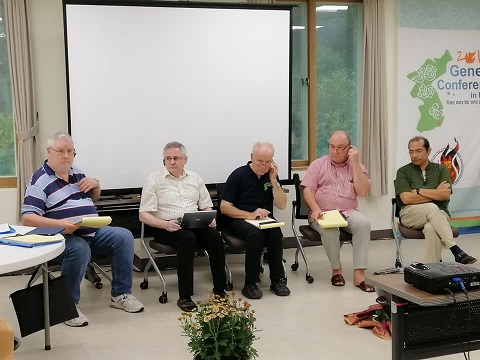 SETTING STANDARDS on SAFEGUARDING CHILDREN
While the Australian Province has been working on these issues for some time, MSC worldwide declared the importance of
Creating and Maintaining Safe Environments

Procedures for responding to Child Protection Suspicions, Concerns, Allegation or Knowledge

Care and support for the complainant

Care and management of the respondent

Training and support for keeping children safe

Communicating the Church's Safeguarding Message

Quality Assuring Compliance with the standards
PROVINCE ISSUES
THE AGING PROVINCES OF THE NETHERLANDS AND GERMANY
Brief Background:

The MSCs in Europe is an ageing community. It goes faster than it acknowledges. From Austria to Spain, the members are all elderly, mostly are septuagenarian. Although the number is still strong but vocations are far or if not, not at all. We are faced with a reality which will really force us to face head-on. There are provinces considering fusion or risk dying a natural death. But the question to brace themselves is the avalanche of future impacts to the membership. Hence a strategic plan is needed and the Conference is the appropriate body to give a signal of what to be done and ought to be done.

North Germany. They are much ahead in their reflections and they came up already various proposals such as the change of their province statute: in terms of structure and involvement to the MSC worldwide. Instead of a PROVINCE, they introduced a term, though strange to the confreres, it is a MINOR PROVINCE. It is not a canonical terminology, as Tim Brennan would put a caveat, that canonically, the nuances of the new term should be laid down. It has to be explained.
The Netherlands. There are two communities now in the Dutch Province, namely, the provincialate community in Tilburg and the International Community. In general, the community becomes scarce as it is an ageing community. There shall be a Provincial Assembly by 2023. There were proposals as regards its future, they will continue to explore it, in the same way that North Germany has undergone it.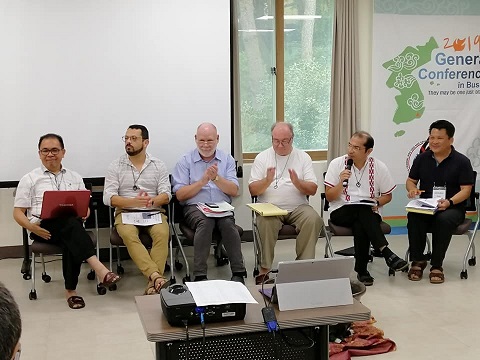 FUSION OF CANADA & DOMINICAN REPUBLIC
Background:

It has been a long time that there were exploratory talks about fusing the two provinces. Both memberships were already informed about the idea. There has been a mutual exchange of ministries such as that there are members in the Dominican Republic who are in Canada (Quebec) and likewise.

CONSENSUS/DECISION

The 2019 General Conference moved to approve the fusion of the Province of Canada with the Province of the Dominican Republic.