Current News
Details

Published: Friday, 13 September 2019 22:50
LETTER FROM VIETNAM, BOB IRWIN MSC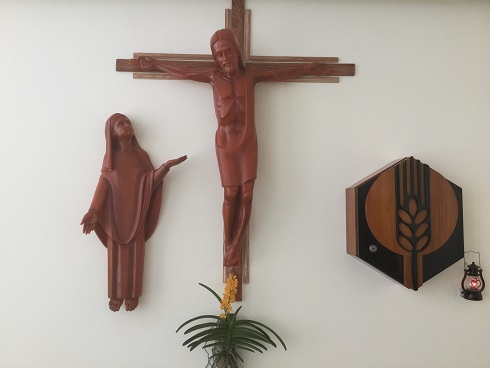 New symbol in student house chapel.........for beginning of school year
Greetings from Saigon, and happy Mid Autumn festival to you.
You may not have realized that we are now in the middle of the eight lunar month, hence the festival. It is sometimes called "moon cake" festival...hence the ubiquitous moon cake, with a crust made from lard, and filled with practically anything. Anyway, have a good weekend!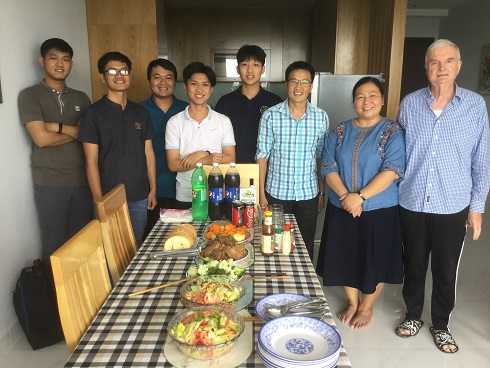 It seems ages since I last wrote, and I could put that down to being very busy, but you would soon see through that. However, it has been pretty busy, even for me. The students are all back from pastorals and holidays etc, so there have been gatherings to celebrate, to begin studies, masses, recollection days etc etc, and with Thoi away, for health check ups, the load gets passed out a bit..
MSC, MSC Sisters and OLSH aspirants
Since I last wrote, I have been back to the barber, but it was disappointing, because my hair style was not depicted on the walls, and the dog slept most of the time I was there.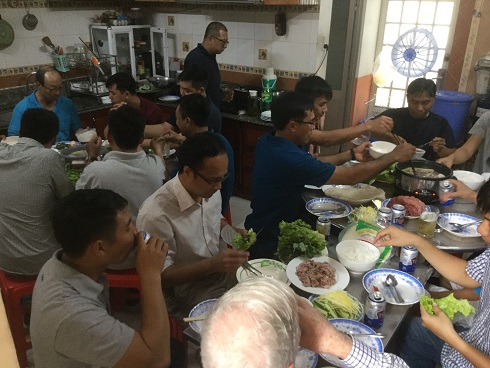 No photo of the haircyt sent, so a picture of the crowded student house instead
The 22nd August was not a good day. My bus to the city was involved in an accident with a delivery truck, not serious, a bit entertaining, actually. They were each trying to beat the other around a corner, waving to each other to move over, but the bluffs didn't work, so they locked together. After considerable remonstrating and checking, they simply moved on. Of course, while they were haranguing each other, the motorbikes just went up onto the footpath, without a second thought.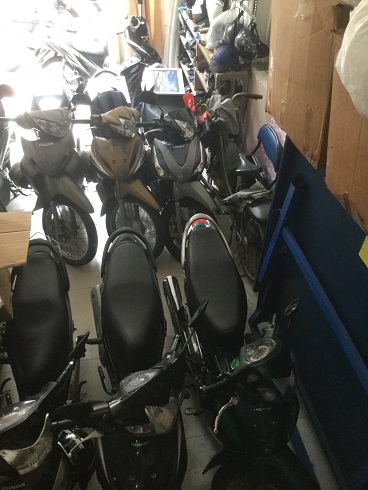 Speaking of bikes and traffic
On in to town I went, and manged to get robbed, walking down a main street (Pasteur street). Sporting my multi-pocketed backpack, all closed, and money, passport and phone all safely in the innermost pocket, some so and so managed to get the phone. I noticed a fellow who was going the same way as I, and he seemed a bit lost. Anyway, his technique was clever, as he ended up standing behind me at each intersection. So, no drama, just makes one a little more paranoid! With the postulant director's help I got a new phone (better one!). The phone company cancelled my number on the stolen sim card, and put it on a new sim card....all for 30 cents Oz.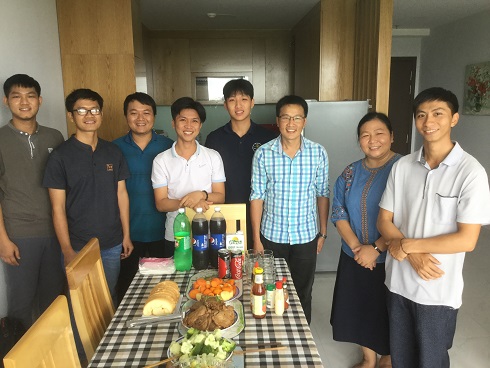 Five postulants plus THI, just graduated in top five of seminary, Sr yen OLSH, and DANH at uncle Bob's
Last time, I mentioned that I was planning to go out of town for a mass of thanksgiving for our newest ordaine
d, Danh. Anyway, I chickened out. It turned out it would mean leaving at 2.30 am and traveling a long distance and then getting home late. Discretion the better part of valor. Since then, Danh has celebrated many thanksgiving masses and one I attended was particularly memorable, with a large number of disabled people, with whom he had been working previously. Since ordination he has also said the funeral mass for his grandmother and celebrated the wedding of his sister. He is now in Oz and will spend c. 12 months with the Tiwi people on Bathurst and Melville Islands.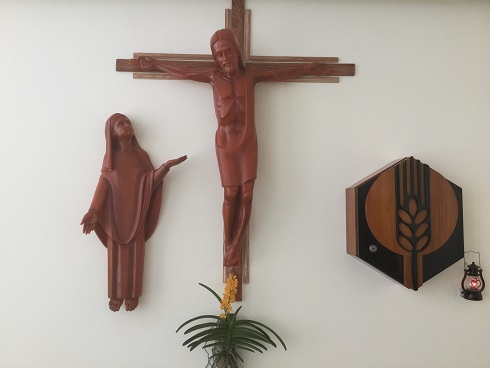 Better go. Hope you are well. MSC here are wonderful to be with. Vietnam is a great place to be,(25 million visitors this year) despite the fact that the traffic is more dramatic and noisy than Wagner's flight of the Valkyries. Lots of love. Stay well. God bless. Let's keep each other in our prayers.