Current News
Details

Published: Thursday, 20 June 2019 22:23
MICHAEL HANGAN, PERMANENT DEACON, MANAGER, MSC PARISH, ST THERESE, MOONAH, DIRECTOR OF CATHOLIC MISSION, HOBART.
For many years, Michael Hangan has been deacon at St Therese, Moonah, working with PPs, Peter Wood, Stephen Hackett and, presently, Mark Hanns.
An MSC Associate, he is now parish manager and chaplain to St Therese Parish School.
He has just been announced as Archdiocesan Director of Catholic Mission, Hobart.
A report from the Diocesan Paper:

Tasmania's new Archdiocesan Director of Catholic Mission says he is here to help parishes focus on mission, as he works towards bringing the Pope's Extraordinary Missionary Month to life in Tasmania.
Deacon Michael Hangan – a permanent deacon based at Moonah-Lutana Parish – took up the position in early May, and says he has 'hit the ground running'.
"We need to live out what the Gospel teaches us," said Deacon Hangan, who considers the Gospel a 'road map' for our actions.
"Christ is telling us in the Gospels to go out and be that face, be that person … help those who are under privileged," he said.
"That's what our faith is. It's going to the margins, going to those who are less fortunate, supporting our neighbours, helping those who are in need."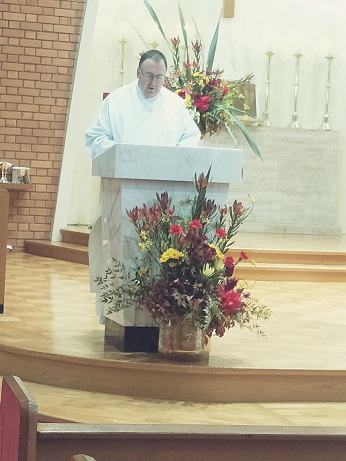 Michael reading the Gospel at Peter Wood's funeral mass.
His role with Catholic Mission will be to facilitate acts of charity directed further afield, as well as assistance to indigenous communities within Australia.
"It's helping not just those people in our backyard, it's helping people elsewhere in Australia, elsewhere in the world, and actually allowing us who are probably more fortunate to live in a country like Australia, to actually go and help those overseas.
"As Christ said: 'Go out and preach the Gospel and go to the ends of the earth,'" he said.
"I'm here to assist parishes and schools to focus on mission, especially on Catholic Mission, and also to help with fundraising for Catholic Mission projects."
This year, one of the focuses for Catholic Mission is Ghana, where children with a disability can be classed as 'spirit children' and be neglected or abandoned.
"Catholic Mission is working with the Sisters there, in particular Sr Stan [Sr Stan Therese Mumuni] who runs a home for children with disability. She takes these kids in, feeds them, nourishes them, and gives them healthcare, education, and also love."
Deacon Hangan is hoping to bring Sr Stan to Tasmania during October – the month Pope Francis has set aside as an Extraordinary Missionary Month.
Themed 'Baptized and Sent: The Church of Christ on a Mission in the World', the Extraordinary Missionary Month marks the 100th anniversary of Pope Benedict XV's apostolic letter Maximum Illud ('That momentus') on missionary activity in the Church.
Deacon Hangan, who in January became an associate with the Missionaries of the Sacred Heart, will combine his role with Catholic Mission alongside serving in the Moonah-Lutana Parish, including managing the parish office, and as chaplain to St Therese's Catholic School in Moonah.