Current News
Details

Published: Tuesday, 23 April 2019 22:23
SRI LANKA, GOOD FRIDAY SUFFERING ON EASTER SUNDAY
After the sadness of the deaths of worshippers in Christchurch, now more than 300 children and adults dead in Sri Lanka.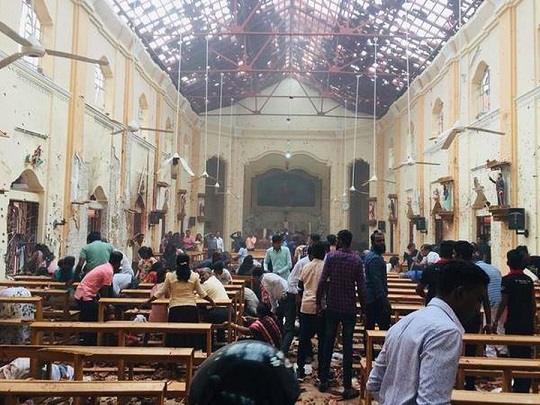 We pray in solidarity with those who mourn, with those who have been injured and the far too many who were targeted and killed, whatever their faith, whatever their belief in human values.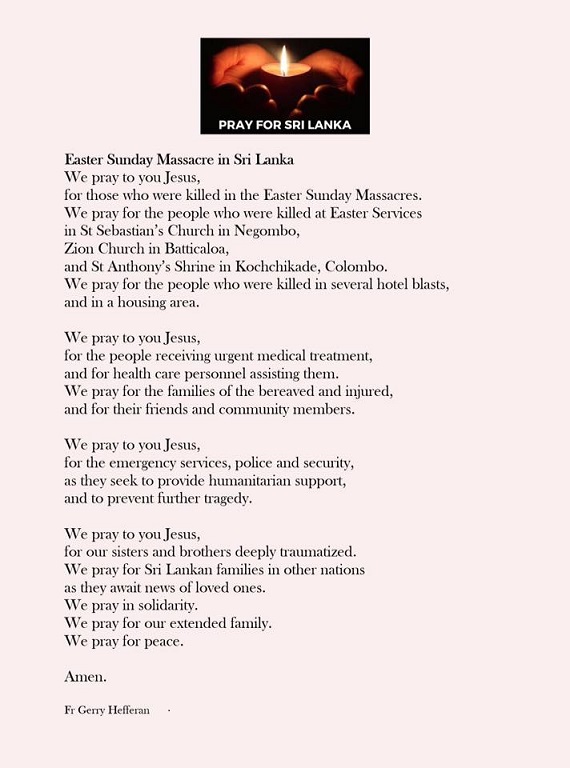 SAD REMINDERS
CHURCHES
The Catholic Shrine of St. Anthony in Kotahena, Colombo, was the first to be hit, followed by the Catholic Church of St. Sebastian in Negombo. Sri Lankan news media reported at least 93 people killed at St. Sebastian's.
The Zion Church in Batticaloa, a Protestant congregation, was also bombed. Local news reported at least 27 killed in Batticaloa, with 9 of these reported by a police official to be tourists. A hospital official in the region said that more than 300 people had been admitted following the explosion.
HOTELS
Three 5-star hotels on the beachfront in central Colombo were attacked around the same time as the churches: the Shangri-La Hotel, the Cinnamon Grand Hotel and The Kingsbury.
The Shangri-La bomber struck at 08:57 hours (UTC +05:30) during breakfast in the Table One Restaurant on the hotel's third floor, which was reportedly full of foreign tourists who made up the bulk of the hotel's clientele.
The suicide bomber who struck at the Taprobane restaurant in the Cinnamon Grand hotel checked into the hotel with a fake name the night prior, under the false pretense of a business trip. Carrying a plate, the bomber entered the queue of the packed restaurant's breakfast buffet the next morning and detonated explosives strapped to his back as he was about to be served. One of the hotel's managers who was present welcoming guests was among those killed instantly.
The reception hall of a guest house near the National Zoological Gardens of Sri Lanka, the Tropical Inn Hotel in Dehiwala, was also attacked later in the day, with two deaths reported. (Wikipedia summary)