Current News
Details

Published: Saturday, 16 March 2019 09:57
AN MSC LIFE, GERRY BURKE, CHEVALIER COLLEGE

The temptation was resisted to use the heading, 'Everything you wanted to know about Gerry but were afraid to ask'!.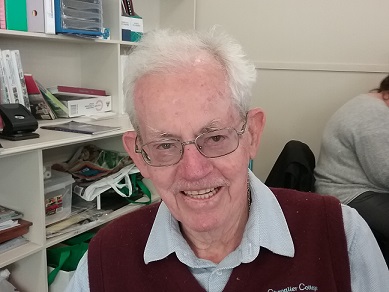 Article in the 2018, Heart and Shield magazine.
He is glad to be back. Again.
When he first came to Chevalier in 1948, the school was in only its third year. Provisions in the post-war era was such that he had to bring his ration coupons to school so the staff could feed him and his fellow students.
He was here is a boarder, due to difficult family circumstances, and he loved the place from the start. So much so that when his aunts visited him – or tried to visit him – on visiting weekends, he would sometimes run and hide at the back of the property.
So he'd stay in, instead. He loved it that much. Despite being shown up by the academic standards achieved by other students such as Paul Brennan and Cyril Chan, who were topping the state in Latin and Greek. Not Gerry,. He struggled.
"I just didn't understand it," he told Shield and Heart,. "At one point, my teacher asked me, "how can I give you a mark for this when it's all nonsense?" I told him I'd at least put my name on it, and surely that was worth something!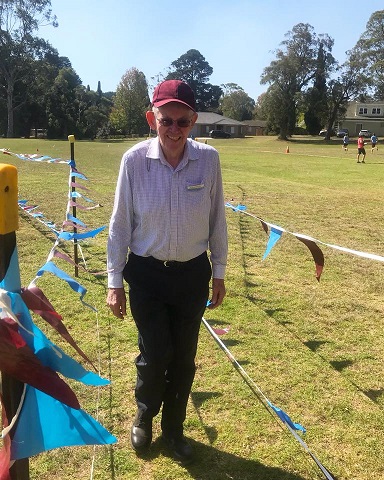 Cross-country champion (category, over-80).
Brother Gerry Burke's time as a student at Chev lasted only four years before he moved to Douglas Park to undertake novitiate training, eventually professing as a brother, then working with the MSC's as a labourer, farmer, coach, and a teacher in schools for the next 35 years before moving into chaplaincy in hospitals and prisons in the Northern Territory.
No sooner had he emerged from Douglas Park than he was back at Chev, serving under Rectors Littleton and Patterson. After several years Chevalier students got to know him as "Backa" Burke, and he worked as Dormitory Master, rugby and cricket coach, cadet commandant and various other roles with colleagues such as Brother Paul Brooks, Reg Pritchard, Dave Merrick and Pat Shields. In 1973 Brother Burke was on duty as the Cadet Unit Commandant when one Year 10 lad, under not-so-close supervision on the rifle range behind the dam, took aim the water tank perched high above the old Riversdale weatherboard buildings.
Those who remember the occasions where they had never seen Gerry so angry as when the culprit was found and paraded before the entire unit on the Heart Lawn where the McMahon Centre now stands.
"It was my first day as Cadet Commandant," Gerry recalls. "He owned up eventually but I was always suspicious that he had taken the fall for somebody else." It's a theory supported by the then Cadet Adjutant and School Captain, Andrew Bisits.
"I heard that the kid who owned up was not the kid who shot the water tank," Bisits recalls. "There's a really grassy knoll theory around this mystery and I truly believe it deserves further investigation… Perhaps even a Royal Commission!"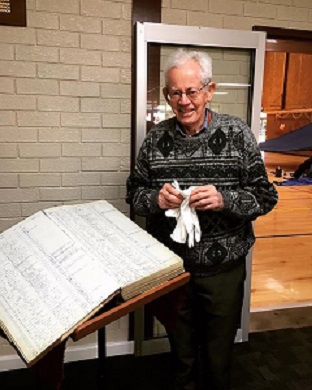 Chevalier Open Book
Father Bell was the school's discipline master and wanted to take the issue further, but it is a measure of Gerry Burke's innate sense of justice that he saved the guilty party further suffering. "I told him that the kid had suffered enough. His mates had already given him a hard time, I'd blown a gasket as his commanding officer in front of the entire Cadet Unit. It was enough".
As a man who has supervised dormitories at various MSC schools, Gerry takes pride in the fact that he never once hit anyone with a strap or cane, even though corporal punishment was common and indeed widely practised by some of his colleagues. "We were all kids once. We all did stupid things. Surely they should have been able to understand that!".
To fully understand his personal commitment to the concept of justice for the people in his care, one need only look to a speech he made to the St John's College community in Darwin on the occasion of its jubilee, where he served in many roles between 1975 and 1991. He told the gathering of his personal motto, borrowed from the prophet Micah:
This is what Yahweh asks of me, only this
that I act justly,
love tenderly
and walk humbly with my God.
Those who know and remember Brother Gerry will know that he is one to keep his personal story pretty close to his chest, so it is quite a surprise to hear him open up to Shield and Heart. A big part of his justification to return to Chevalier was to re-engage with the members of his Southern is one Highlands-based family. "The beauty of coming back now is so that I can reconnect with these people. I've got a cousin in Mittagong, I've got another cousin in The Oaks, a cousin in Camden, a cousin down in Kiama".
Family is an emotional trigger for Gerry. The subject leads him to reflect that his whole life has been in the service of Jules Chevalier, founder of the Missionaries of the Sacred Heart.
"I was at OLSH, then here, then Douglas Park, then back here, then at St John's Darwin, then back to Bowral for a short time to look after about 40 Vietnamese young men, housed at the former premises of OLSH on Centennial Road, then back to Darwin at St John's before taking on roles as prison and hospital chaplains. Religious life has given me a life."
Addressing Past Students' dinner.
"I looked after kids pretty much all my life. I'm sure I've made mistakes and let some kids down now and then, but overall it was work I enjoyed. But when I left the schools and went into clinical pastoral care, it really opened my eyes. To be in hospital and be there for people who were dying was really quite a privilege."
It's a time he remembers fondly. "I left schools because I was no longer being challenged. I'd been there done that. I was chaplain at a private hospital in Mackay for three years, I was chaplain at Darwin Hospital for eight years, and I was chaplain at Darwin prison for five years. It taught me to see the other side of life. By getting out of schools and the structure under which they operate, it was life-giving to me."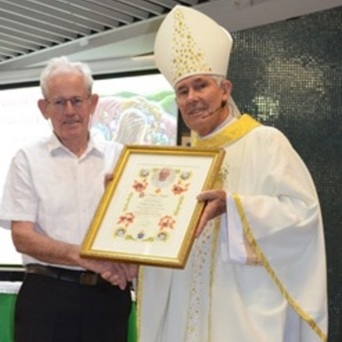 With Bishop Eugene Hurley, Darwin.
In listening to some of his stories (such as sitting with a man during his last two hours of life after he'd been flown to Darwin as a critically burned victim of the Bali bombing, sitting with the family of a plane crash victim as they came to realise that they would have to turn the life-support system off), it becomes patently clear that Brother Gerry is a man of great humility, great compassion, and above all unbounded humanity. He talks of his service to the MSCs and the life he has been privileged to lead. One wonders whether he ever considers how grateful the people he has served over so many decades must be, just because he was there. Jules Chevalier would indeed be proud.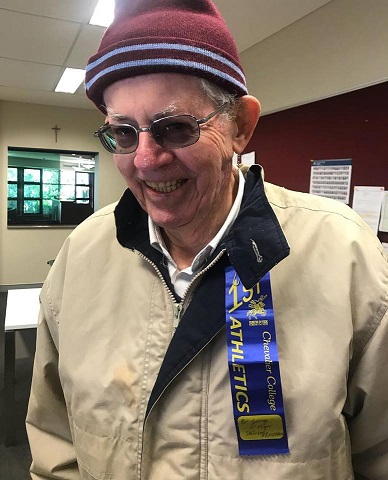 From the Profile, Heart & Shield, annual 2018.