Current News
Details

Published: Tuesday, 06 November 2018 22:21
GOOD NEWS - A NOVICE, KENJI KONDA
Reception into the Novitiate 2 November 2018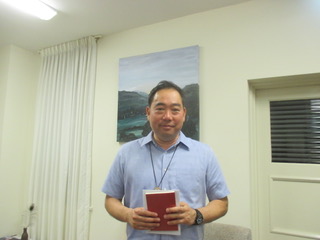 A significant event for the MSC Australian Province took place on the evening of the 2nd of November in the Jenkins Chapel St Mary's Towers, Douglas Park. For the first time in six years a reception ceremony was held to receive a candidate into the Novitiate program.
[Philip Malone, community leader for the Victoria and Tasmania community where Kenji spent 2018 at Cuskelly House, Blackburn, represented the community and supplied this report and the photos.]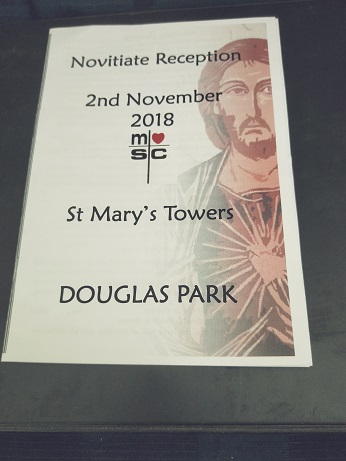 Kenji Konda came to the Novitiate following his preparation at Cuskelly House in Melbourne, under the guidance of Chris Murphy MSC, and in the presence of the St Mary's Towers community, Kenji's mother and brother MSC.
He was formally welcomed into the Novitiate by the Provincial Superior, Chris McPhee MSC anf his Novice Director, Peter Harvey-Jackson MSC.
The ceremony of reception was simple but moving, starting with a welcome from Barry Smith MSC the Community Leader, a confirmation of Kenji's readiness from the pre-Novitiate Director, reflection on the vision of Jules Chevalier by the Novice Master, the Provincial Superior drawing Kenji's attention to MSC spirit and life through readings from the Constitution, Kenji's affirmation of his willingness to undertake his Novitiate formation and the support offered by each of those present in a laying on of hands.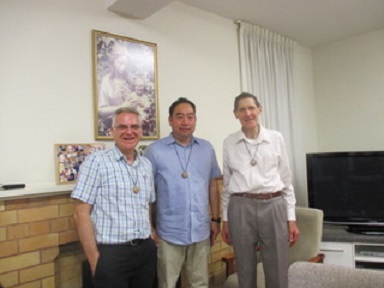 Peter Harvey Jackson offered a stirring reflection on the Gospel Reading ('they left everything and followed Him') in the context of an MSC formation - this theme was again highlighted as the response to the prayers of intercession.
The formal reception into the Novitiate came with the presentation to Kenji of the Constitutions and the MSC Cross.
The ceremony was 'bookended with the singing of 'You Are Mine' and 'Woman of the Sacred Heart' (patroness of the Novitiate).
After the ceremony, in the spirit of MSC hospitality, all enjoyed a light supper.