Current News
Details

Published: Wednesday, 17 October 2018 22:16
NOEL MANSFIELD MSC, REFLECTIONS
Noel has an ability to communicate his reflections in words. This is to the fore in his current book, both memoir and a spirituality of ageing, Dawn to Dusk. Here are three reflections.

Fr Frank Perry, Mum and Elsie
FRANK PERRY MSC
On Saturday, September 1, Father Frank Perry died peacefully at Mary Potter Hospice at Calvary Hospital. He was well looked after in his final hours. I was with him from 4 pm to his death at 7.10 pm. Paul Cashen was also there during that time. He had arrive before me. Three others were there from our community. - John Rate, Bill Brady and Krish Mathavan. But these had to go off to celebrate Mass in their churches.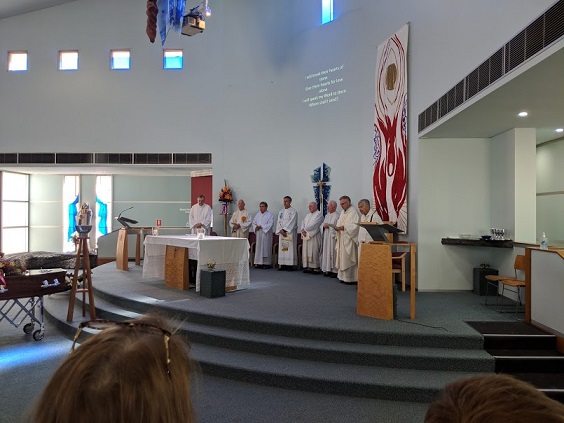 At the moment that Frank died, three young people who had been in Frankl's Youth Group (called Antioch) arrived. There were two young men and a young woman. This girl was clearly moved as she watched rank take his last breaths.
MUM
It reminded me of my own Mother's death. But before I go on, I want to explain how we came to be in Nambour. This was not a place that we associate with the family usually. Bundaberg was our home town. So how did we finish up in Nambour?
In 1969, Mum and Anne had travelled down to Sydney to greet Joan from Broome. I travelled from Canberra where I was teaching at Daramalan College. We met up in Sydney and the four of us set out to drive to Bundaberg. This was meant to be a time of family celebration. But that was not the case.
It was a long journey. We had a couple of nights on the way at motels. When we arrived in Brisbane, Mum wanted to get some things settle at her unit in St Lucia. That took a couple of days. Then we set off again on the road. We stopped at the Sunshine Coast at Mooloolaba.
During the night, Mum had some trouble with her heart. A doctor was called and she settled down for some more hours. At 6 am, her heart condition became worse and she was taken by ambulance to Nambour hospital. It was Christmas Day.
Mum had had a very severe heart attack. During the morning, I remember going back to the presbytery at about 9 am and met John Casey there. We had been classmates at Downlands. He was then a Doctor and I think he was at a University lecturing on medicine. He told me that if Mum recovered she would be an invalid because the heart attack was so severe.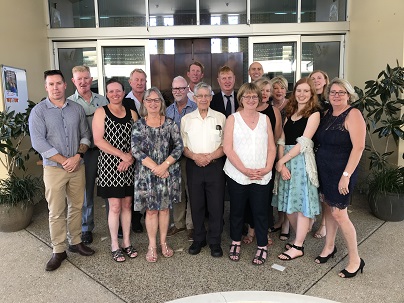 All the family arrived except Elsie - the member of the family who had been on the outer for so many years. I know she may have been able to come earlier. But she was a single mother looking after five children, two of whom were still quite young. So I really do not know why she was late.
It was such a touching thing to hear mum asking for her so often during the morning. I was sitting with mum for a few hours as I watched her die. She kept asking for Elsie. She said many times: Where is Elsie? But she did not turn up. Mum knew that all the rest of us were there. Elsie eventually arrived about an hour after mum died.
I blessed mum many times while I was there and anointed her. In spite of the obvious fact that she was dying and she knew it herself, I was not able to speak about anointing of the dying. I avoided the word and said something about blessing. Then when I blessed her again about an hour before she took her final breath, she said to me: Thanks very much, Love. They were the final words that she spoke.
The final words of any person are precious. When that person is your own mother, then they are even more precious.
When I saw that she was fading at 11.30 am, I called in the rest of the family. My eldest brother, Jim, ruffle my hair and said: Come on, Noelie, you are the priest. I was crying bitterly. I could not think of anything else, so I said: Let's say the Rosary. We got through the whole Rosary. I was able to say the final prayers. Then at exactly 12 noon, as we said the final part of the prayer: Glory be to the Father and to the Son and to the Holy Spirit, as it was in the beginning, is now and ever shall be, world without end. Amen. Mum breathed her final breath at the Amen.
After her death at midday, we went back to the Good Samaritan convent where I celebrated mass with the family and the Good Samaritan Sisters.
By this time, Elsie had arrived with her younger children. To the best of my recollection, Helene, Jane and Kevin were there. However I cannot be sure. I do know that the older boys had gone off to boarding school and I think they were not there. I stand to be corrected on this.
I began the celebration of our Christmas Day Mass at about 1.30 pm. Things were going well till after the consecration. Then I could not go on. My emotions took over and I could not get the words out. Immediately the Sisters helped me out by continuing the rest of the Mass. It was the first time that I had ever concelebrated and it was with the Sisters in the community.
After the Mass, the family gathered at the motel where they were staying. I remember the owners were very helpful in meting any of our needs. There we had a meal together.
ELSIE
Now it is Saturday, 15th September, and I am waiting for word of Elsie's death. She is my eldest sister. I have not seen her in years. She has been in a nursing home in Nambour many years. It is a quaint twist of fate. Mum had died in the Nambour Hospital forty nine years ago. Now here is the Elsie that Mum kept asking for when she was dying.
On Sunday, I celebrated the Italian Mass at 11 am at Hindmarsh Church. When I came out from the celebration, I opened my phone to see a message there from Jane telling me that Elsie had died while I was celebrating Mass. When I was celebrating, I had asked the people to pray for her.
I had told the family that I will come up there when she does die. I do not see much point in going there at this stage. Jell is 90, Joan is 89, Pat is 87, I am 85 and Anne is 80. There is not much possibility that my being there would make any difference. I can be of more value to the family at a distance.
The parish priest anointed Elsie last week on Friday 7th. I have been in contact with the parish and with the family. The now wish to have religious service at St Joseph's church. Jane told me today that Greg and Helene thought that this would be a good idea. None of these has been near a church as far as I know. But Helene said her children were baptized and received First communion there. The world has taken another flip. I will wait for Jane to contact me. I told her that I could stay at the presbytery; but that will need to be confirmed on Monday. In the meantime I have contacted Tim and he will take me to Nambour for the funeral. That was well received by Jane.
The funeral was arranged for Thursday, 20th September. I flew up there on Wednesday.
The service was simple but moving. At this time I was offered the opportunity to present the homily. Jane gave the Eulogy at the beginning.
I centred my homily on the fact that Elsie was able to gather all her children together for this significant occasion. Then I recalled some of the details of Mum's death. I was thinking of the words Mum spoke so clearly: Where is Elsie? It was the only name that Mum spoke. The words of the prophet Isaiah came back to me:
I will never forget you my people.
I have carved you on the palm of my hands.
I will never forget you,
I will not leave you orphans,
I will never forget my own.
Does a mother forget her baby?
Or a woman the child within her womb?
Yet even if these forget
I will never forget my own. (Isaiah 49:15-16)
Over the next couple of days, I was able to meet up with nephews and nieces, together with their partners and children. I am so grateful that I had this wonderful opportunity. I was looking forward to meeting the families; but I was astounded to find that I could relate to them so easily. I suppose that was one of the reasons that I felt quite as home when I was giving the homily at the funeral service. It has made me realize that I have been missing out on so much over so many years. I have lived in other parts of the country and in other parts of the world so I have not been able to keep contact with them all. They are also quite spread out.
Greg had arranged that I take the Connexion bus to Nambour. I did not know that there was an airport at the Sunshine coast. I could have flown straight there and landed a few Kilomentres from Greg and Robyn. Now I know for future occasions.
My motel unit was next to Jane and Glenn. Ruby was also there. Hele and Rebecca had a room further down. So I was able to spend some time with them.
I also had a day with Greg and Robyn. Before we set out, I was shown round the property that Greg has. He has an interesting assortment of equipment and housing. Greg seems to have an interest in almost everything. On the way down to Brisbane, we were able to visit various graves of Robyn's relatives. Greg even found that he had signed for his father's ashes. Before this day, he thought that Helene had collected the ashes. Now he does not know where they are. This was an interesting part of finding out more about the family.
Then they brought me to Tim's place. (Tim Mansfield is my eldest brother's only son.)I spent the final night with Tim and Audrey. We had a common interest in family history. I now have to send him more information about the family.
Brian and Margaret Gagen picked me up and took me to the airport. Brian and I spent an hour catching up on some of the things happening in our lives. Brian ND I joined the MSC's in 1951. After a number of years, he left and later married Margaret.)
I would like to thank them all. There is also the hope in my heart that I will be able to keep in contact with them during the coming years.