Current News
Details

Published: Sunday, 07 October 2018 22:19
MSC MISSION OFFICE CONFERENCE 2018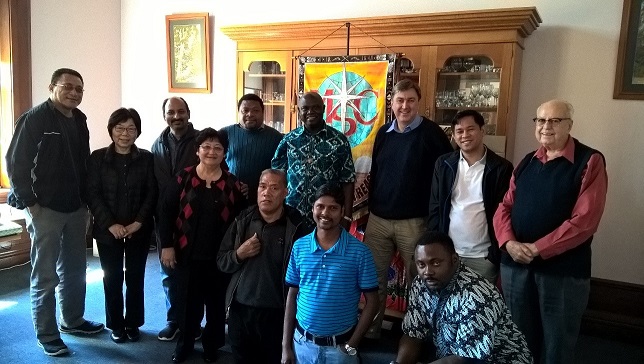 Group Photo: Fr Tamati Sefo (Fiji), Mrs Nobuko Konda (Volunteer), Fr Charles Babu msc (India), Mrs Mary Bourne (Board Member), Fr Fabian Manukialona msc (PNG), Fr Tatieru Ewenteang msc (Kiribati), Fr Toussaint Iluku Bolumbu msc (Cameroon/Congo), Fr Richard Suresh msc (India), Mr Sean Donovan (Project Officer), Fr Christian Mongay msc (Senegal), Fr Rolie Richie D Gomez msc (Philippines), Fr Adrian Meaney msc (Director)
Monday to Thursday last week we held our registered Charity MSC Mission Office Conference involving our regional workers from seven countries, workers in our Sydney office, local volunteers, OLSH sisters and Mission Office members. We stressed that we are a Charity which has always considered itself to be a Lay Movement, interested in Lay Missionaries, Accountable Fundraising, regular use of all forms of Media, and above all of praying for and with our Missionaries ad gentes.
These days were pretty full, starting at 9am each morning and going through into the night. Each day included a Mass in the afternoon with a different regional representative presiding.
Monday saw us cover the Purpose and Practise of Mission Office and Fundraising. We also had presentations from Mary Bourne Volunteering: Kiribati, Kensington, Bourke and Beyond and Fabian Manukialona msc on Papua New Guinea Water Projects.
Mrs Nani Widarto (Accountant) presenting on accounts record keeping
On the Tuesday and Wednesday we covered a lot of the nitty gritty of our required processes and procedures including Donor Management – Sally Omar, Project Applications and Acquittals - Sean Donovan, Record Keeping – Sean Donovan, and Book Keeping - Nani Widarto.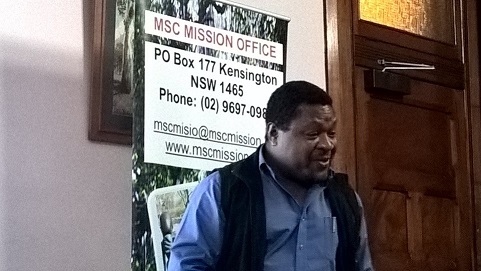 Fr Fabian Manukialona (PNG) presenting
Over those days we heard presentations from Charles Babu msc and Richard Suresh msc India: We Are Growing, Rich Gomez Philippines Projects, Tamati Sefo Fiji: January to August This Year, and Br Hung Nguyen Vietnam.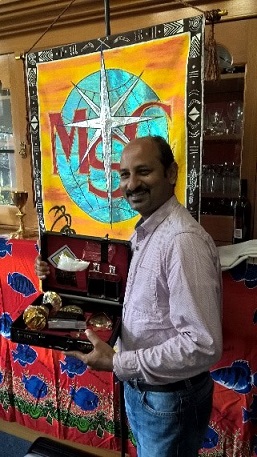 Fr Charles Babu receiving a Mass Kit
We also fitted in a special Board Meeting on the Wednesday morning so that everyone could get a feel for how we run our meetings and what they need to include in their regional meetings.
Wednesday night we took a ferry trip to Manly for a conference outing and dinner.
Finishing on Thursday we heard from Toussaint Iluku on the French Speaking African Union and had a hand-on workshop of our Shared Computer System. We finished off with open discussion and sharing and finally a Closing Mass.
Fr Richard Suresh saying Mass
We pray that everyone came away with a clear idea of the practical requirements as well as inspiration to be with the poor and marginalised.
Br Hung Phuc Nguyen msc (Vietnam), Fr Tatieru Ewenteang msc (Kiribati), Fr Christian Mongay msc (Senegal), Fr Rolie Richie D Gomez msc (Philippines), Fr Tamati Sefo (Fiji), Fr Toussaint Iluku Bolumbu msc (Cameroon/Congo)
With thanks to Adrian Meaney, Director